Celebrate the FIRST night of Hanukkah together with the SFS community! In Person or on Zoom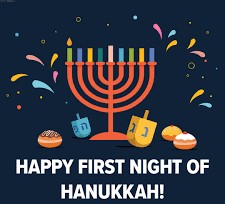 Join us for an evening filled with song, celebration, candle lighting, musical performances, and good food! LOTS of LATKES included! Special supervised kids' activities downstairs! Don't forget to bring your family Menorah.
Please REGISTER by December 12.
Schedule:
5:30 – Festivities begin with a little nosh
6:00 – Festive Hanukkah Hybrid Candle lighting celebration (zoom begins)
7:00 (approx.) – Delicious dinner: lots of latkes, catered dinner and yummy jelly donuts (optional kids' activities downstairs).
Pricing:
In Person with Dinner:
Adults: $30
Teens: $15
Children: 7th grade or under, No Charge
Zoom Only: $18 per screen. If you wish to order a dinner for $30 for an early pick up to eat at home while you are on zoom, the zoom link is included.
Payment may be by check made out to Sinai Free Synagogue or on our website by credit card, click 
HERE.
If the cost is an issue, please contact Rabbi Barzilai. Please REGISTER for the celebration whether you are attending in person or on zoom. Our wonderful dinner will be catered by Wellington's Grill. You will be asked for your choice of main course when registering. You will also have the option of eating dinner at SFS or taking it home following the festivities.
Hanukkah Dinner Menu:
Pumpkin Bisque Soup with Roasted Apples
Main Course: Choice of:
Brisket
Salmon Fillet
Eggplant Parmesan
Child's Plate – Chicken Fingers with latkes
Latkes with Apple Sauce
Charred String Beans with olive oil & garlic
Jelly Donuts